When it comes to replica Audemars Piguet, you don't immediately think of the millennium series. In fact, the unusual oval case looks like a watch from a completely different company. In contrast to the contemporary Royal Oak and Royal Oak near the shoreline, the millennium series is where AP explores the neoclassical aesthetic. The idea behind the watch is that it is a modern interpretation of a classic watch.
As you'd expect from AP, this watch has perfect movement finishing, particularly on the large, exposed, proprietary escapement, with big balance wheel and beautifully hand-finished bridge. This escapement has bitten into the off-centre dial. Traditional dial with Roman numerals and exposed screws. Another sub-second dial was removed from the main dial, and additional holes were added to the sun and moon Windows. It's a complicated look, aesthetically very busy watch, and this is before we got complicated.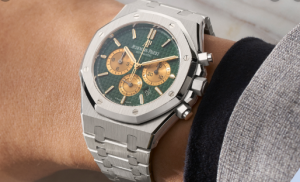 This fake watch features a brand new complication – a Quadriennium. This is a new type of calendar complication that sits in between an annual calendar, which displays the day, date and month and only needs to be adjusted at the end of February, and a perpetual calendar, which is clever enough to take oddball February and leap years into account. Audemars Piguet's middle ground is a watch that is smart enough to make the jump from Feb 28 to March 1 three out of every four years, only needing a guiding hand during leap years, where you have to wind it back to show the 29th of the month.
While the complication is a novel idea that I can see gaining some wider traction for AP, the package as a whole doesn't work for me. There are so many things: asymmetrical dials, exposed plates and screws, a mixture of Roman and Arabic numerals, sun and moon Windows of different sizes, two putters. All of this is crammed into a large oval box, seemingly unsure whether it is classic or modern.
The Millenary Quadriennium is characterized by an interesting complexity and completion at a very high level, but it lacks the harmony or cohesion that I felt needed to make it work.